How does this work? A step by step guide
Registration Procedure
Step 1: Select your account:
Here you can choose between the free account (30 day trial) and the paid account.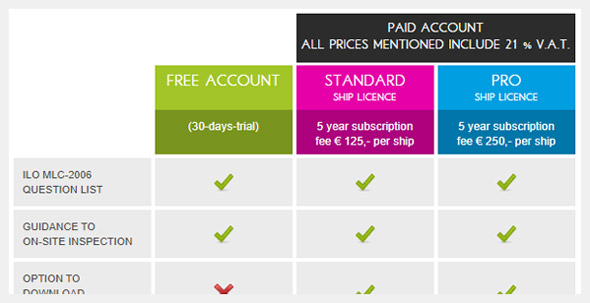 Step 2: Register your company and receive an unique password by email
(For the free account you only have to enter your email address, choose a password and create a ship.)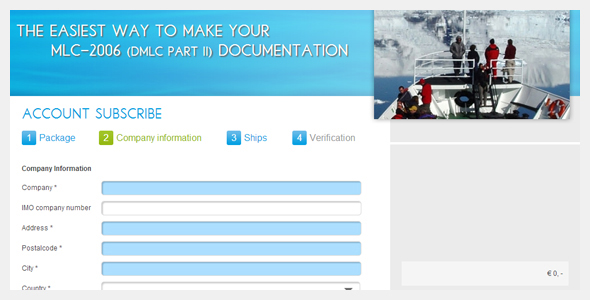 Step 3: Here you can add as many ships as you wish and choose either Standard or Pro licence per ship (annual subscription fee per ship applies).
The available flags (Pro ship licence only) for the purpose of the Pro ship licence are shown at the bottom of the page where you can add ships.

We offer special rates for registering 5 vessels or more. Mail us for a tailor made quotation.

Step 4: Verify your entered data and submit.

Start working:
1) Log in using your email adress and your password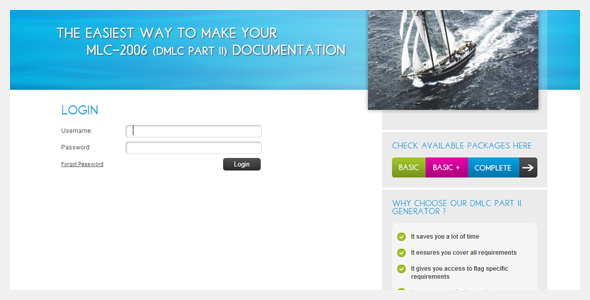 2) Add more ship(s) and upload your company logo and ship image to create your ship specific DMLC Part II.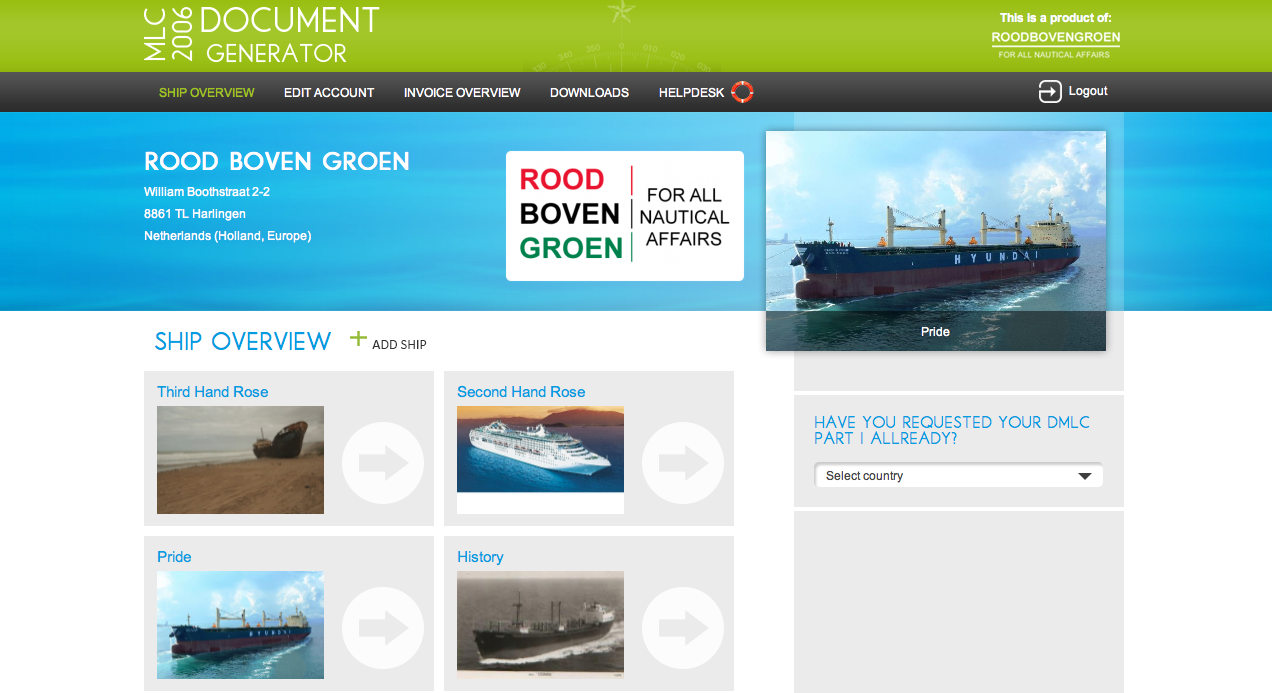 On the Fleet Overview you can select the flags of your ships on the right side to find an example of the DMLC part I and the application form for your ship specific DMLC part I of the selected flag.

After selecting one of your ships on the Fleet Overview you will find the following options:
1. Create your DMLC part II (this is were you start answering the question list)
2. Download your DMLC part II
3. Flag Specific Information
4. Create a link for Class
5. For inspection only
6. For your information only
- Edit Ship
- Delete Ship



1. Create your DMLC part II by answering all questions of the question list:
If you have chosen the PRO ship licence the flag icons will indicate where requirements of your flag differ from the standard MLC 2006.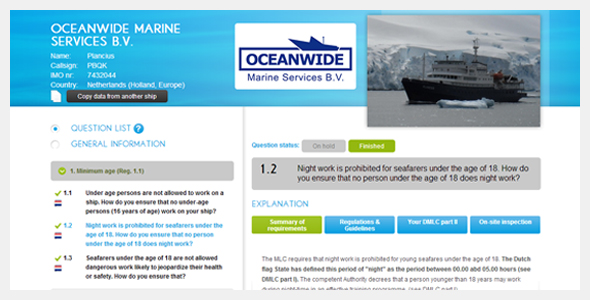 Click on one of the 16 main questions on the left and specific background information will appear.
Click on a sub question and the tabs will guide you through the process:
Your DMLC Part II tells you what to record into the box 'Answer' and gives you the possibility to refer to any necessary attachments (box "Relevant Documents") for your DMC Part II.
All your entered text will be saved continuously.

Summary of requirements: a brief description of the MLC Requirements (as a Pop up)
Regulations and Guidelines: applicable part of MLC-2006 and (only for Pro ship licence holders) flag state regulations (as a Pop up).
On-site Inspection: a list of items that are likely to be inspected on board and in the office after you have submitted your DMLC Part II. This feature is not available in the free version of this tool. (Pop up)

On hold: press if you want to get an alert that you have not completed this item yet (this will be indicated for you with an orange dot).
Finished: press if you have completed this item. This will now be indicated with a green tick. No dot or tick will appear if you have skipped this question.
Once you have answered all sub questions of 1 of the 16 items, a green tick will appear in the grey bar.
Questions 1 to 16 are compulsory for the DMLC Part II.

2. Download your DMLC part II
Once you have answered all questions (check for green ticks) you can download your completed DMLC Part II in 'Ship Overview' (depending on your licence) to submit together with the listed attachments for certification.

Any time during the process you can also download your DMLC Part II via the option at the top of the screen.
Date and time of download version will be visible on each download.

3. Flag Specific Information
This option gives you extra information applicable for the chosen flag, such as Circulars of the Administration, flag specific documents, contact details of the Administration, etc.


4. Create a link for Class
You can create a link for Class. With a unique link the surveyor of your Class can write comments on your answers directly on-line in your DMLC Part II. The comments will be visible on-line and can be made visible on the download of your DMLC Part II if you wish.

5. For inspection only
This option will be of importance before an inspection takes place (not available in the free account)

6. For your information only
This option is for your information only and has been included to make the MLC-2006 information complete.

When upgrading to a different account or ship licence, your previously entered data will be transferred without loss of data.

At the top of the screen there is an option to copy one ship's information to another ship.